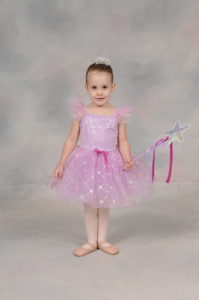 Mommy & Me Movement Class:  This class will allow children and their mothers (or caregivers) an opportunity to bond while they explore new ways to move.  This class will be taught in 6 week sessions.                                                                                                                                    Pre-School Ages 3-4:  These classes encourage the joy of movement, creativity, and self-expression. Children will develop body and spatial awareness, musicality, and the dynamics of moving together as a group. Terminology and basic steps are introduced and an appreciation of French as the language of dance is developed.
Pre-Ballet & Tap 1 and 2:   Establishes basic ballet vocabulary, barre and center work, and spatial awareness while still encouraging joy of movement. Tap will be introduced in this level as well.  This class will perform a ballet piece in the Spring Concert.  Ages 5-7. Teacher will place according to experience and age.
**Ballet 1-5   Continues training of ballet vocabulary by establishing more complex material, port de bras, and musicality.
**Pre-Pointe:   This class is a pre-cursor to pointe. This class will focus on strengthening the foot and ankle, proper alignment and increasing endurance. This is an additional class and teacher placement is required. Pre-Pointe shoes are required for this class.
**Pointe:   Students who take pointe are required to take 2 weekly technique classes in addition to their pointe class.                                                                                                                        Worship Ballet:  This class will teach ballet technique while at the same time giving the students opportunities to explore ways to incorporate ballet into their worship.
Pre-Teen/Teen and Adult Ballet/Tap:  This class is designed for older beginners or for students who haven't had class in a few years and need to catch up.  Open for ages 10 and older.                                                                                                                                                                  Modern/Jazz/Tap:   This class will be based on the techniques of classical ballet but will allow for more freedom of movement, improvisation, expressing of oneself.  Classical jazz (modest) will be introduced, as will tap.  This class is available to students enrolled in Ballet 1-5.  Teacher will place based on experience.
**Denotes teacher placement is required. Placement may not necessarily be done by age.